Overcoming doubt with faith is our greatest need in life. We all have doubts, it seems to be a common malady in humanity. In doubt we fear. In doubt we question our next move. In doubt we don't trust ourselves or others. Doubts bring uncertainty; they cause us to rethink and rethink, resulting in a failure to act.
What do you do when your doubt overwhelms you, or when doubts keep popping up in your mind.
Maybe you are starting a new job or just beginning and wonder how you are going to adapt to this new situation; doubts cloud your mind. When trying to make ends meet with your financial situation, doubts sneak into your thought; building fear of failure.
As a person of faith you might get the feeling that you should be better able to handle life situations, doubt comes and you wonder if you really believe at all.
Starting a new business, a new occupation, a new career or a new relationship all can create feelings of doubt.
Reactions To Doubt
We all know the feeling. But the way we react to doubt is based on our individual ideals.
Some times doubt can simply be cleansed from our thoughts by just saying no! It's true, some times when doubts arise we can choose to think, "no I am not going there". We chose because we have learned to overcome the types of doubts that are just uncertainty rising in our minds. We choose to say no because we have learned from experiences that when we try anyways, despite doubts, we can succeed in overcoming a problem.
Along that same type of thinking we can learn to overcome doubts if we purposely try to think positive about any situation. Optimism – that great ideal that says when you think positive thoughts you have positive results. Optimism is more than just an ideal; it is a philosophy or doctrine that we live in the "best of all possible worlds" (Gottfried Wilhelm Leibniz) – that good will eventually overcome evil.
There are many benefits to optimism or living with a positive mental attitude. in the past this type of thinking has helped me through many struggles. It has helped me to achieve more than what I ever thought was ever possible, it has helped me to persist even in spite of my failures. if you struggle with optimism I encourage you to research it more before dismissing it as a lot of bunk. Here is an excellent article on "the many benefits of optimism". Check it out for yourself.
Overcoming Doubt Through Faith
There are some doubts that come to mind that can simply be washed away by just saying "no, I'm not going there". And there are some doubts that come our way that we can filter out of our system through our thinking positive about a situation; looking for the good in things or situations, instead of the bad.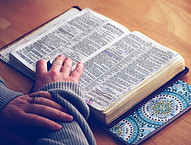 But there are sometimes when doubts overwhelm our mind; those doubts that come with situations where we have no control.
These are the doubts that can be overcome through faith alone. Yes, Christians have doubt but it is what we do with that doubt that is important. There is a great illustration of the relationship between doubt and faith in Matthew 14:22-32.
It is probably a story you remember, when Jesus walked on water towards the Disciples and Peter asked if he could come to Jesus on the water as well. Peter did walk on the water, that is until his doubt got to him. As he cried out to Jesus for help, Jesus said these memorable words – "You have so little faith… Why did you doubt me" (Matthew 14:31 NLT).
Peter was doing the impossible. But the situation was out of his control, it was Jesus, his faith in Jesus, that allowed him to believe he could conquer the impossible. Then doubt came. He looked down at the water instead of up to Jesus. If that was me I would have reacted the same way, I know I cannot control water. No matter what I do that water is going to do what comes naturally and swallow me up.
There are those situations in life where the results are not up to us; they are beyond our control. When the doctor's diagnosis is bad and no amount of positive thinking will stop the doubt that comes and overwhelms you thoughts.
It is faith that can save us in those times. It is our faith that can help us overcome doubt.
Faith That Overcomes Doubt
Jesus taught us not to be anxious about anything. In Matthew 6:25 Jesus said, "do not be anxious about your life, what you will eat or what you will drink, nor about your body, what you will put on. Is not life more than food, and the body more than clothing?"
What was Jesus trying to teach us here? In the following verses he explains that God provides for all the needs of the natural world and God cares and will take care of you as well – "But if God so clothes the grass of the field, which today is alive and tomorrow is thrown into the oven, will he not much more clothe you, O you of little faith?" (Matthew 6:30). Our faith should inform us that God is there for us and will provide in due time.
When the disciples were amazed at Jesus' ability when he cursed the fig tree and it withered within 24hours Jesus told them that faith can move mountains; faith can help us do what seems impossible.
Matthew 21:21-22 (ESV) – And Jesus answered them, "Truly, I say to you, if you have faith and do not doubt, you will not only do what has been done to the fig tree, but even if you say to this mountain, 'Be taken up and thrown into the sea,' it will happen. And whatever you ask in prayer, you will receive, if you have faith."
The Apostle Paul, the most prolific writer in the New Testament, had a way of teaching that reached many but his power in his words was not focused on his wisdom or his ability to think. He reminded his followers that it was through the power of God that he was able to reach out to so many.
1 Corinthians 2:1-5 (ESV) – "And I, when I came to you, brothers, did not come proclaiming to you the testimony of God with lofty speech or wisdom. For I decided to know nothing among you except Jesus Christ and him crucified. And I was with you in weakness and in fear and much trembling, and my speech and my message were not in plausible words of wisdom, but in demonstration of the Spirit and of power, so that your faith might not rest in the wisdom of men but in the power of God."
Paul had faith that God would help him and in his faith he trusted that God would work miracles. He put his faith in God. That kind of faith can overcome any doubt you might face in your life.
Doubts Are Not All Bad
There are times in my life that I felt that I failed God because of my doubt; as if doubts indicate unbelief. But the longer I live and study God's word and seek to understand the more I realize that doubts come [even to believers] but what I do with my doubt is what really counts. Do my doubts cause me to seek God's help?
In his book "Hope In The Dark" Craig Groeschel writes, "The more I've lived life and the more I've sought to know and understand God, the more I'm certain that doubts are essential to our maturity as believers." This adds a whole different twist to dealing with doubt; that is, when we seek to understand when we doubt the result is our growth, our maturing in faith.
Rev. Groeshel believes that God honors believers when they struggle with their faith, that through this struggle to understand God helps us grow in our faith.
King David was one of the great leaders in the Old Testament and he wrote many psalms revealing his thoughts and struggles. In Psalm 6 he earnestly seeks out God; his heart is broken, he reacts with a contrite spirit that looks to God as a source of help in times of need and stress that would cause anyone to give up.
Psalm 6:1-4 (ESV) – "O LORD, rebuke me not in your anger, nor discipline me in your wrath. Be gracious to me, O LORD, for I am languishing; heal me, O LORD, for my bones are troubled. My soul also is greatly troubled. But you, O LORD—how long? Turn, O LORD, deliver my life; save me for the sake of your steadfast love."
I highly recommend this book, it is a great source for learning how to deal with doubts as a believer. This book was written for those who struggle to believe that God really cares for them. Their struggle is founded in the fact that they are living through dark times, when faith is questioned too often, and their doubt causing a rift in their faith.
If you have asked those hard questions, or know someone who is struggling to find God, or to believe that God is still there with them in the painful trials, then this book is a great resource to bring hope in the dark.
You can find it at Amazon. Check it out here ~
In Time God Has Taught Me
Doubts will come.
Sometimes simply dismissing them as nonsense is an easy way to push them out of my mind.
Sometimes because I believe that God works in all situations for our Good, I look for the positive and seek to learn and grow through the doubts.
But those times when Doubts overwhelm; those situations where I have no control, I look to God. I seek out his help through prayer and the word trusting that He will provide a way out. I have learned to trust God even when life is not good.
Let me say thank you for stopping by and reading this post. I hope that you found hope and help in your own struggles with doubt.
I hope to hear back from you as well. Feel welcome to share your thoughts, your struggles and even your questions.
Blessings
Raymond
Please follow and like us: